1.2M Wrongful Death Settlement For Family of Child Killed Ambulance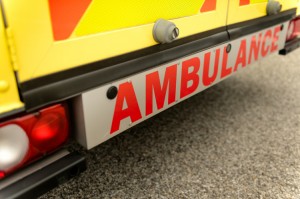 Brett McDaniel was struck and killed by an ambulance while riding his bicycle on Rosalie Street in Golconda, IL. The family of Bret was awarded a settlement of $1.2 Million for his death, which was reduced from a verdict of 2 Million by the Illinois jury by a 40% contributory negligence.
The wrongful death verdict is believed to be a record for Pope County and was approved by Pope County Judge Joseph M. Leberman.
McDaniels was riding his bike with a friend on October 8, 2007 just a block from his home when he was struck and ran over by an ambulance traveling south on Adams Street. The vehicle belonged to the Mercy Regional Emergency Medical Service.
Previous to the accident, the ambulance was transporting a patient to Hardin County Hospital, where it then planned on returning to Kentucky. The court documents state that the tragedy occurred on the way back. The ambulance was driving over the speed limit and did not have its lights or sirens on. Also,
The wrongful death lawyer representing the plaintiff commented, "The jury's verdict demonstrates the substantial loss that Brett's mother, father, and two brothers went through. No amount of money will bring Brett back. But the verdict demonstrates just how substantial the family's loss was, and it sets the record straight on what happened that day. When children are around, drivers need to slow down and be careful."
In the United States there are hundreds of ambulance accidents each year which result in serious injuries and and often times death. While there are different rules in place for emergency medical services personnel, crashes still occur and they can still be held liable for their negligence.
If you or a loved on has been involved in an accident due to an ambulance drivers negligence contact the Scranton Law Firm and get free legal advice. Our accident lawyers can answer all your questions free of charge and help you every step of the way with not only your settlement, but your medical treatments, and handling things such as your property damage or your leave from work.
Call Now (800) 400-8742 the call is free and you pay nothing unless we settle your case!