Vehicle Damage and Driver Injury Following Roof Collapse on East Street, Tracy
Injured Car Accident, Tracy, Ca
Tracy, CA – In the bustling heart of Tracy, California, streets that are ordinarily filled with the mundane buzz of traffic recently witnessed a chilling accident — one that underscores the profound importance of structural integrity in the buildings that line our urban landscapes. The incident unfolded around 4:43 p.m. on the 2000 block of East Street when a roof dramatically collapsed on a passing vehicle. The aftermath was nothing short of a grim tableau, a stark reminder of the unpredictable nature of personal injuries and the essential responsibility of property owners.
From a legal perspective, such incidents often incite a slew of questions. Who is liable when structural failures like this occur? Is it solely the result of natural wear and tear, or is it a consequence of neglect? According to the South San Joaquin County Fire Authority and Tracy city building official, Christopher Morgan, the tragic collapse was attributed to a "catastrophic failure of the overhang soffit." Preliminary investigations hint at possible water damage, further weakening the structural attachments.
Find Out If You Have A Case.
These insights raise an essential legal principle: the duty of care. Property owners, whether they are individuals or business entities, have a duty to ensure the safety of their premises. This duty extends not only to those inside the property but also to passersby who might be affected by potential structural failures. Should they fail in this duty, they can be held liable for resulting injuries or damages.
Moreover, the ripple effects of such accidents often spread far and wide. In this instance, not only was the driver injured and hospitalized, but businesses, including a carniceria and gym, sustained structural damage. Many were displaced, their lives and livelihoods disrupted without warning. Such incidents reiterate the interconnectedness of our communities and the sweeping impact of what might first appear as isolated events.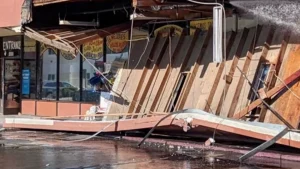 While every personal injury case is unique, with its set of challenges and legal nuances, certain principles remain constant. Accountability, justice, and the pursuit of rightful compensation are at the heart of such legal endeavors. But the process can be intricate, demanding expertise in navigating the intricate tapestry of personal injury law.
To anyone who has faced such an unexpected tragedy or is close to someone who has, understanding your rights and legal options is paramount. The realm of personal injury lawyers can be daunting, filled with complex terminologies and processes. This is where the seasoned prowess of a practiced legal team can make all the difference.
At the Scranton Law Firm, we have dedicated over five decades to championing the rights of those wronged. With an illustrious track record of recovering more than $500,000,000 for our injured clients, we blend legal acumen with compassion. We understand the physical, emotional, and financial toll such incidents can exert, and our commitment is unwavering — to stand by your side, offering guidance, advocacy, and the relentless pursuit of justice.
If you, or someone you know, have been ensnared in the aftermath of a premises liability accident, remember: you don't have to navigate this journey alone. Let our experience be your beacon. Let the Scranton Law Firm be your advocate.
In the aftermath of a personal injury, every decision counts. Make yours a step towards justice. Reach out to the Scranton Law Firm today, and together, let's chart the course to a brighter, more just tomorrow.
Don't navigate the aftermath of a premises liability accident  alone. Let the Scranton Law Firm stand by your side. With over 50 years of experience as personal injury lawyers, we've helped thousands recover from their losses. If you or a loved one are affected by a Tracey premises liability accident, don't hesitate to reach out to us. Secure your rights and seek the justice you deserve. Call us now for a free consultation – The Scranton Law Firm, your trusted ally in these challenging times. Call 800-707-0707 now.