US Safety Regulator Begins In-depth Probe into Deadly Tesla Accident
Fatal Car Accident, South Lake Tahoe, Ca
South Lake Tahoe, CA – The fatal crash involving a 2018 Tesla Model 3 on July 5 in South Lake Tahoe, California, has once again thrust the spotlight on the safety of advanced driver assistance systems. As personal injury lawyers with over 50 years of experience in handling all kinds of accidents, the details surrounding this incident raise several critical legal questions and concerns that merit exploration.
The tragic collision between the Tesla Model 3 and a Subaru Impreza not only resulted in the death of the Subaru driver but also fatally injured a three-month-old passenger in the Tesla. This accident underscores the essential question of liability. Was the Tesla's advanced driver assistance system in operation at the time of the crash? If so, who bears the responsibility – the car manufacturer for potential failure in its technology or the driver for not adequately supervising the system?
Find Out If You Have A Case.
The National Highway Traffic Safety Administration (NHTSA) has opened a special investigation into this incident. This is part of an ongoing scrutiny into Tesla's technology, with over three dozen special crash investigations since 2016 where systems like Autopilot were suspected of being used. This persistent questioning by regulatory bodies, particularly focusing on the design, engineering, and testing of Tesla's advanced driver assistance system, raises valid concerns for consumers.
The legal ramifications of these investigations are far-reaching. If the NHTSA's probe finds flaws in Tesla's system, it could lead to significant liability for the manufacturer. Vehicle owners who have been involved in accidents while relying on these systems may find legal recourse against Tesla. Additionally, these investigations may shape future regulations and standards for all manufacturers of autonomous driving technology.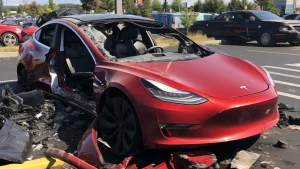 Another alarming aspect is the dozen crashes in which Tesla vehicles hit stopped emergency vehicles. These incidents question the system's ability to detect stationary objects, which is a significant concern for road safety. The potential flaw in the technology may also contribute to more profound legal troubles for the manufacturer.
The crash in South Lake Tahoe raises questions about speed management and vehicle control. The police report states that the Subaru was traveling at 55 mph, while the Tesla was at 45 mph. How did the advanced driver assistance system respond to this scenario? Did it attempt to take evasive action? Answers to these questions will help elucidate whether the technology acted appropriately or if there was a failure in the system.
NHTSA's ongoing scrutiny into emerging technologies and potential auto safety issues may lead to more extensive investigations or even recalls. These could have significant legal and financial implications for manufacturers and offer potential remedies for injured parties. The broader perspective also involves examining safety rules on autonomous driving and may set new precedents for how these technologies are governed.
The empathetic tone towards the victims cannot be overlooked. These technological advancements are supposed to make driving safer, not put lives at risk. The growing number of accidents involving driver assistance systems demands urgent attention and responsible action from manufacturers, regulators, and legal experts alike.
If you or a loved one has been involved in an accident involving advanced driver assistance systems, the path to justice can be complex. The Scranton Law Firm, with over 50 years of experience dealing with all kinds of accidents, is here to support you. We have recovered more than $500,000,000 for our injured clients and will fight diligently to ensure that you receive the compensation you deserve. Don't let technological advancements become an excuse for negligence. Reach out to us today, and let our expertise be your guide in these unprecedented times.
The investigation into the recent fatal Tesla crash opens doors to a myriad of legal questions. It's not just about one incident; it's about an ongoing dialogue regarding technology, safety, responsibility, and the law. By examining these issues from a legal standpoint, we hope to contribute to a safer, more accountable future for all drivers on the road.
Don't navigate the aftermath of a fatal Tesla accident alone. Let the Scranton Law Firm stand by your side. With over 50 years of experience as personal injury lawyers, we've helped thousands recover from their losses. If you or a loved one are affected by a Northern California Tesla accident, don't hesitate to reach out to us. Secure your rights and seek the justice you deserve. Call us now for a free consultation – The Scranton Law Firm, your trusted ally in these challenging times. Call 800-707-0707 now.