Mike Tyson Comes To The Aid OfA Motorcycle Eccident Victim
Fatal Motorcycle Accident, Kern County, Ca
Former Heavy Weight Champion Mike Tyson has finally made the news for something positive! The former boxing champion is no stranger to the headlines but they have not always been positive. This week Tyson is making headlines for helping a victim of a motorcycle accident today in Las Vegas.
29 year old Ryan Chesley was riding on Interstate 15 in Las Vegas, Nv, when a taxi cab swerved in front of him forcing him to put his motorcycle down, causing some very serious injuries. The personal injury lawyer for Chesley stated that his client suffered broken bones, torn ligaments and nerve damage and will require shoulder surgery.
Find Out If You Have A Case.
While Chesley was on the ground after his accident he looked up to see Mike Tyson and a group of friends offering their help, blocking off traffic, and reassuring Chesley that help was on the way. The champ instructed the on lookers to stay back and not to touch Chesley until help had arrived. Tyson stayed with Chesley until help arrived talking to him, keeping him conscious, and making sure he didn't go into shock.
According to Chesley   he "Thought he was hallucinating" and that "he was in another world."
To thank him for his good deed Chesley sent Tyson a hand written note and a basket of fruit, that according to his assistant, was devoured before the weekend was over!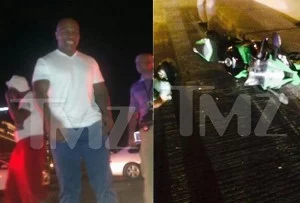 If you or someone you know has been involved in a motorcycle accident contact the Scranton Law Firm to discuss the details of your accident with a motorcycle accident lawyer. We can help you deal with insurance adjusters, handle your property damage claim, even help you deal with your leave from work!
24 Free Personal Injury Hotline
(800) 400 8742
Second Photo Courtesy of TMZ