Teen Arrested in DUI Incident, Man Critical After Multi-Vehicle Crash on Highway 99
Injured Car Accident, Sacramento, Ca
Sacramento, CA – In the early hours of July 28, Sacramento was shattered by a wrong-way crash involving four different vehicles on Highway 99, a tragic incident that highlights the ongoing peril of DUI-related accidents. This multi-car collision has not only raised eyebrows but has ignited a legal discussion about the implications of driving under the influence, vehicular damage, personal injury claims, and the need for public safety.
The incident occurred when a 19-year-old, driving a BMW, was caught traveling the wrong way on northbound Highway 99. The alleged DUI suspect sideswiped a Toyota, subsequently causing a chaotic chain reaction involving two more vehicles—a 2020 Dodge and a 2015 Lexus. The severity of the crash was palpable; a fiery scene unfolded, leaving the driver of the Dodge in critical condition and two other drivers with minor injuries.
Find Out If You Have A Case.
From a legal standpoint, the DUI wrong-way crash that took place near Fruitridge Road is a somber reminder of the tremendous risks associated with driving under the influence. Even small amounts of alcohol can significantly impair judgment and reaction time, leading to catastrophic outcomes like the one that has left a Modesto man fighting for his life.
A detailed investigation is underway, and the legal ramifications of this accident are likely to be complex. While the teen driver's arrest on suspicion of DUI is a significant aspect, the critical injury to the Modesto man and the damages sustained by the other vehicles open multiple avenues for personal injury claims. Insurance companies, police reports, witness statements, and possibly even criminal charges all intertwine to create a legal web that requires an expert to navigate.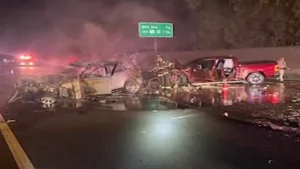 Victims of such accidents often find themselves caught in a maze of legal procedures, medical bills, and emotional trauma. Personal injury law seeks to provide a path to recovery, enabling those affected to obtain compensation for their injuries, vehicle damages, lost wages, and other related losses.
The Scranton Law Firm, with over 50 years of experience in personal injury cases, has an unparalleled understanding of the complexities involved in accidents like this. Recovering more than $500,000,000 for injured clients, they offer a beacon of hope for those overwhelmed by the legal challenges following a devastating accident.
For the families and communities affected, this accident serves as a grim lesson about the inherent dangers of DUI and the urgent need for responsible driving. The Sacramento incident will no doubt spark discussions about road safety, traffic regulations, and the enforcement of DUI laws.
If you or a loved one has been involved in this accident or any DUI accident, please remember that legal help is available to you. The Scranton Law Firm stands ready to guide you through the intricate legal maze, offering compassionate support and expertise that only decades of dedicated service can provide. Trust them to be your advocate in seeking the justice and compensation you rightfully deserve. The next step towards recovery begins with your call. Take that step today by contacting Scranton Law Firm; it's a decision that echoes the wisdom of 50 years in personal injury law, a decision to place your trust in a firm that values your recovery and justice above all else.
Don't navigate the aftermath of a DUI accident alone. Let the Scranton Law Firm stand by your side. With over 50 years of experience as personal injury lawyers, we've helped thousands recover from their losses. If you or a loved one are affected by a Sacramento DUI accident, don't hesitate to reach out to us. Secure your rights and seek the justice you deserve. Call us now for a free consultation – The Scranton Law Firm, your trusted ally in these challenging times. Call 800-707-0707 now.