Santa Rosa Highway 101 Tragedy: Car Strikes Pedestrian Leading to Fatality
Fatal Car Accident, Santa Rosa, Ca
Santa Rosa, CA – The calamity of pedestrian accidents, where an instant can change lives forever, came into focus on August 21, 2023, in Santa Rosa. On that fateful night, a black Chevrolet Camaro collided with a pedestrian on Highway 101 near Todd Road. The personal injury implications of such a traumatic event hold weight, especially when navigating the legal terrain of compensations and liabilities.
This pedestrian accident, which occurred around 11:29 p.m., claimed the life of the unidentified pedestrian, spotlighting the significant dangers pedestrians face on highways, even in the apparent safety of late-night hours. The consequences of reckless or distracted driving, particularly in areas with potential pedestrian traffic, cannot be understated.
Find Out If You Have A Case.
While the circumstances remain uncertain, the severity of the accident warranted the closure of two northbound lanes on Highway 101. Such disruptions, beyond the immediate tragedy, amplify the broader societal implications of not prioritizing road safety. If a vehicle, especially one as powerful as a Chevrolet Camaro, isn't handled with utmost caution, the results can be, and often are, catastrophic.
From a legal standpoint, these accidents generate numerous questions. What were the conditions of the road? Were there adequate lighting and signage? Was the driver under the influence or distracted? Was the pedestrian following safety protocols? Answering these questions is crucial for justice and compensation processes, ensuring that victims or their families receive the restitution they rightfully deserve.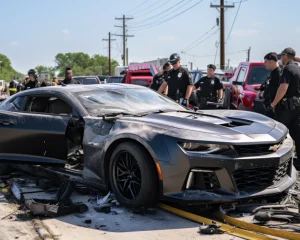 Yet, in the immediate aftermath, details can be sparse. The California Highway Patrol's request for witnesses or anyone with additional information underscores the complexity of such situations and the importance of piecing together a comprehensive account.
For those unacquainted with personal injury law, accidents of this nature can be a maze of confusion, pain, and unanswered questions. But, it's vital to remember that the legal system is structured to protect victims' rights and offer reparations where due. Swift legal consultation with an experienced pedestrian accident lawyer  often makes the difference in ensuring rightful compensation.
At Scranton Law Firm, we've consistently championed the rights of accident victims for over 50 years. With a proven track record of recovering more than $1,000,000,000 for the injured, our expertise in personal injury cases stands out. We extend our heartfelt condolences to the victim's family and friends and assure all impacted by such accidents that they're not alone.
You deserve answers. You deserve justice. If you or a loved one has been involved in a similar tragic event, reach out to Scranton Law Firm. Trust in our unparalleled experience, our empathetic approach, and our commitment to getting you through these challenging times. Your journey to justice begins with a conversation. Let's talk today.