Rancho Cordova Teen Killed In Vallejo Big Rig Accident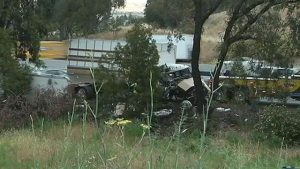 Early this morning a Ranco Cordova teen was killed when he was ejected from a truck that crashed near the Tennessee St exit of interstate 80.
The west bound truck was headed to deliver mattresses when the driver 24 year old, Hilario Ramires, of Sacramento fell asleep at the wheel and allowed the truck to drift off of the road and collide with two large eucalyptus trees. The 19 year old passenger, Adrian Aponte of Rancho Cordova, was not wearing a seat belt and was ejected from the vehicle suffering major injuries. Emergency respondents pronounced the 19 year old dead on the scene. The driver suffered only minor injuries and was taken to NorthBay Medical Center in Fairfield.
According to CHP Officer Andrew Brown drugs or alcohol do not appear to be factors in this case.
If you or a loved one has been involved in an accident involving a big rig call the Scranton Law Firm, we have successfully litigated many similar cases and recovered over half a billion dollars for our clients. Call 24-7 For Free Legal Advice 1 800 400 8742
Photo Courtesy of:KCRA