2 Year Old Boy Killed By Falling Statue While Visiting Fisherman's Wharf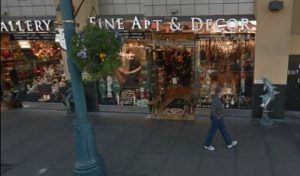 A family trip to San Francisco resulted in a tragic accident for one Utah family this week. While visiting The Fishermans Wharf on Friday two year old Kayson Shelton was playing on a large statue of some dolphins located outside of a Jefferson Street shop the Majestic Collections Art Gallery. The boy was apparently climbing on the statue and forced it to tip  over.
The boys six year old sister attempted to stop the statue from tipping but it was much to heavy for her and it fell landing on top of the boy. Emergency respondents first on the scene could not detect the child's serious internal injuries and initially treated him for a bloody nose and brought him to the hospital.
Upon arrival at the hospital the boys condition worsened dramatically and he was immediately checked in to the emergency room. At 3:40 Kayson was pronounced dead by the attending physicians just a few hours after the accident occurred.
Police officers mentioned that shop owners have been warned about having statues out on the part of the sidewalk governed by the Port of San Francisco. One officer mentioned that this shop in particular was one that did not always comply with code.
If you have a loved one that has lossed their life or been seriously injured due to a store owners negligence it is very important to contact a qualified personal injury lawyer that can help you prove negligence on the business owners part.
Contact the Scranton Law Firm 24/7 at 1 800 400 8742 we can help answer any and all of your legal questions and evaluate your case for free.