Police Chase Leads to Multiple Vehicle Accident near Bay Bridge
Police Pursuit, San Francisco, CA
Police Pursuit Leads to Multi-Injury Accident 
San Francisco, CA -In the heart of San Francisco, a routine night transformed into a scene of chaos as a police pursuit culminated in a multi-vehicle collision, leaving several individuals grappling with the aftermath.
The Incident
On the evening of November 3, 2023, a high-speed police chase ensued on the Bay Bridge, leading to a catastrophic crash involving a silver sedan, multiple vehicles, and a Waymo robotaxi at the intersection of Folsom and 11th streets. The pursued vehicle, in a desperate attempt to evade capture, veered onto the sidewalk, striking two pedestrians, with one sustaining major injuries. The driver of the sedan and a passenger from another car were also injured, while the occupants of the Waymo escaped physical harm.
Find Out If You Have A Case.
Legal Implications
The legal consequences stemming from the multi-vehicle collision near the Bay Bridge are complex, particularly due to the involvement of a high-speed pursuit. In California, liability extends beyond the at-fault driver to potentially include law enforcement agencies if the chase is found to have been conducted recklessly. The state's comparative negligence rule further complicates matters, as it allows for the apportionment of fault among all involved parties, which can significantly influence the outcome of personal injury claims.
Statistically, the California Highway Patrol notes an uptick in accidents resulting from high-speed pursuits, with a proportion resulting in severe injuries or fatalities. The National Highway Traffic Safety Administration (NHTSA) reports over 7,000 deaths in the last two decades due to such incidents. These sobering statistics highlight the risks associated with high-speed chases and the importance of holding all negligent parties accountable, emphasizing the critical role of skilled legal representation in advocating for the rights of victims.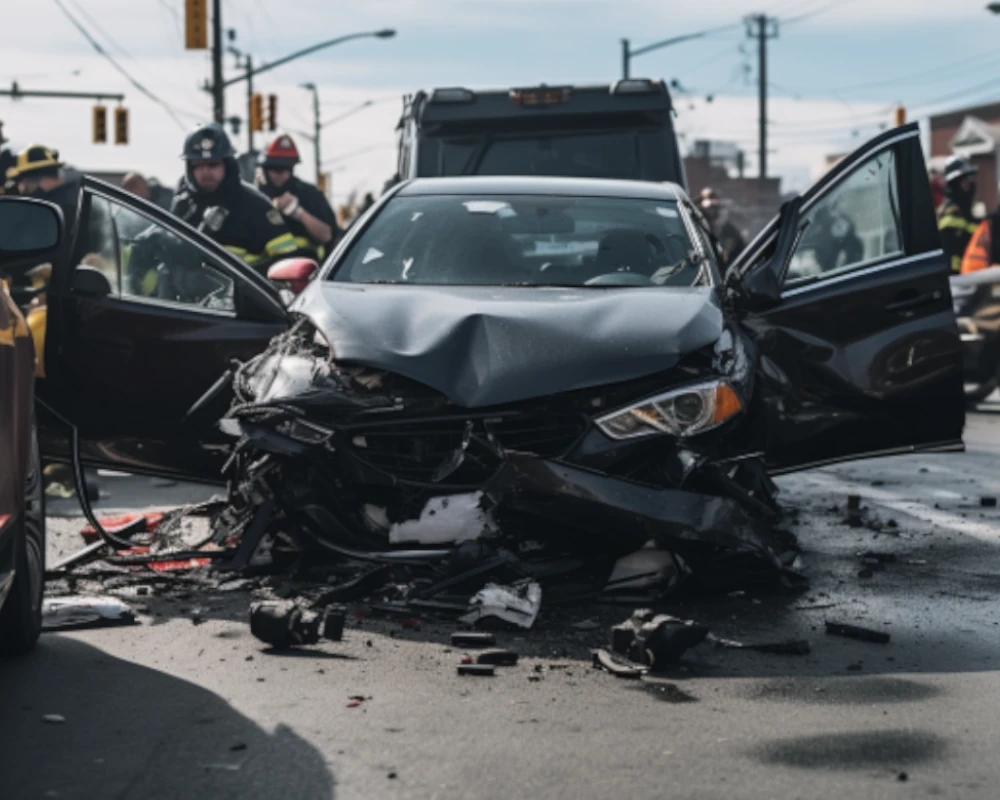 Navigating the aftermath of such a traumatic event requires expert legal guidance to ensure justice and compensation for the victims. The Scranton Law Firm, with over 50 years of experience and a record of recovering over $1 billion for clients, stands ready to provide that expertise. If you or a loved one have been affected by this incident or similar circumstances, we urge you to reach out for the support you deserve.
FAQs
What should I do if I'm injured as a bystander during a police chase? Seek immediate medical attention, document the incident, and consult with a personal injury attorney to explore your legal options.

Can I claim damages if I'm hit by a car involved in a police pursuit? Yes, you may have grounds to claim damages. It's crucial to discuss your case with an attorney who can navigate the complexities of liability in such situations.

Are autonomous vehicles like Waymo liable for accidents during unforeseen incidents? Liability in accidents involving autonomous vehicles can be complex and depends on various factors, including the vehicle's response to the incident and the actions of the human operator, if present.

What rights do I have if I'm injured in a multi-vehicle crash? As an injured party in a multi-vehicle crash, you have the right to seek compensation for your injuries, lost wages, and other damages.

How can a personal injury attorney help in cases involving police chases? A personal injury attorney can help by investigating the incident, establishing liability, and advocating for your rights to ensure you receive fair compensation.
Don't navigate the aftermath of a Police Pursuit accident alone. Let the Scranton Law Firm stand by your side. With over 50 years of experience as personal injury lawyers, we've helped thousands recover from their losses. If you or a loved one are affected by a San Francisco Police pursuit accident, don't hesitate to reach out to us. Secure your rights and seek the justice you deserve. Call us now for a free consultation – The Scranton Law Firm, your trusted ally in these challenging times. Call 800-707-0707 now.