One Person Dead after a Crash on Highway 205 in Tracy
Fatal Accident, Tracy, CA
Fatal Accident on Highway 205 in Tracy
Tracy, CA – In the early hours of a Tracy morning, a life was abruptly cut short on Highway 205, marking yet another tragic statistic in California's traffic fatality rates.
The Incident
On November 6, 2023, a collision on the westbound side of Interstate 205 at the North Tracy Boulevard offramp claimed at least one life. The crash, reported at approximately 6:08 a.m., led to the closure of the westbound lanes near the Tracy offramp well into the afternoon. Details regarding the vehicles involved and the specific nature of the crash have not been fully disclosed by authorities, who are continuing their investigation into the incident.
Find Out If You Have A Case.
Legal Implications
The grim reality of traffic accidents is reflected in the statistics: the National Highway Traffic Safety Administration (NHTSA) reports that traffic fatalities in the United States have been on the rise, with over 36,000 deaths in recent years. In California alone, the Office of Traffic Safety (OTS) notes a significant number of these incidents involve factors like impaired driving, speeding, and the failure to yield right-of-way. The legal implications of such accidents are profound, as they often lead to both criminal and civil repercussions. In the case of the Highway 205 tragedy, if negligence is found on the part of one of the drivers, they could face serious charges and be held liable for damages.
In the civil realm, the consequences are equally as significant. California operates under a comparative negligence system, which means that any compensation awarded to victims can be reduced by their percentage of fault in the accident. For survivors of traffic accidents or families of deceased victims, this underscores the importance of having a knowledgeable attorney to navigate the complexities of personal injury law. Moreover, the state's statute of limitations allows for a finite period within which to file a lawsuit, making timely legal consultation crucial. The role of a personal injury lawyer becomes indispensable in investigating the accident, establishing liability, and ensuring fair compensation for medical expenses, lost wages, and other damages.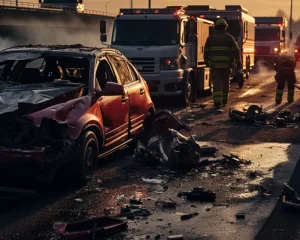 Navigating the aftermath of a car accident requires expertise and an understanding of the intricate legal landscape. The Scranton Law Firm brings over 50 years of experience and a compassionate approach to ensure that victims' rights are protected and negligent parties are held accountable. If you or a loved one have been affected by such a tragedy, reach out to a seasoned car accident attorney who can guide you through the process and help secure the compensation you deserve.
FAQs
Q: What steps should I take immediately following a car accident in California? 
A: After ensuring your safety and attending to any immediate medical needs, it's important to report the accident to the police, gather contact and insurance information from all parties involved, and document the scene with photos if possible. Then, consult with a personal injury attorney to understand your rights and the next steps in seeking compensation for your damages.
Q: How long do I have to file a personal injury claim in California? 
A: In California, the statute of limitations for personal injury claims is generally two years from the date of the accident. However, if the claim is against a government entity, the time frame is significantly shorter – typically six months from the date of the incident.
Q: Can I still receive compensation if I was partially at fault for the accident?
A: Yes, under California's comparative negligence law, you can potentially recover damages even if you are found to be partially at fault. However, your compensation may be reduced by the percentage of fault attributed to you.
Q: What types of compensation can I pursue in a personal injury case? 
A: Compensation, or damages, in a personal injury case can include medical expenses, lost wages, loss of earning capacity, pain and suffering, and punitive damages if egregious wrongdoing is involved.
Q: Why is it important to hire a personal injury attorney after an accident? 
A: A personal injury attorney can provide crucial assistance by handling legal complexities, negotiating with insurance companies, and advocating for your full legal rights to ensure you receive the maximum compensation you deserve. They bring expertise and resources to investigate the accident, attribute liability, and represent your interests throughout the legal process.
Don't navigate the aftermath of a vehicle accident alone. Let the Scranton Law Firm stand by your side. With over 50 years of experience as personal injury lawyers, we've helped thousands recover from their losses. If you or a loved one are affected by a Tracy vehicle accident, don't hesitate to reach out to us. Secure your rights and seek the justice you deserve. Call us now for a free consultation – The Scranton Law Firm, your trusted ally in these challenging times. Call 800-707-0707 now.