One Injured, & One Dead after a Vehicle hits a Tree in Hayward
Fatal Accident, Hayward, CA
Tragic Vehicle Accident in Hayward
Hayward, CA -In the quiet hours of an early Sunday morning, tragedy struck at the intersection of Winton and Magna Avenues in Hayward, leaving a community grappling with loss and questions.
The Incident
On November 5, 2023, a solo vehicle accident occurred in Hayward, CA, at the crossroads of Winton and Magna Avenues. At approximately 2:14 a.m., a 46-year-old male driver from Oakland failed to navigate a turn, resulting in the car colliding with a tree. The impact was fatal for the 37-year-old female passenger from Richmond, who was pronounced dead at the scene. The driver sustained critical injuries and is currently hospitalized in stable condition. This incident marks Hayward's 10th fatal collision in 2023, highlighting an alarming trend in traffic-related fatalities.
Find Out If You Have A Case.
Legal Implications
The tragic incident in Hayward, where a vehicle collision resulted in a fatality and critical injury, underscores the legal complexities surrounding solo car crashes. In such cases, determining liability can be challenging, especially if the driver survives with serious injuries. Authorities will investigate whether factors like impaired driving due to drugs or alcohol, or external conditions like inclement weather, played a role. The outcome of this investigation can significantly influence the legal proceedings, potentially leading to charges of vehicular manslaughter or DUI. For the families involved, navigating the aftermath may involve wrongful death or personal injury claims, where the representation by a skilled attorney is crucial to address the intricate details of fault, compensation, and insurance claims.
Statistically, this incident marks Hayward's 10th fatal crash in 2023, highlighting a concerning trend in traffic-related fatalities. The city's response, including a $200,000 traffic calming project along the D Street corridor, indicates a recognition of the need for improved road safety measures. Nationally, the NHTSA reports that single-vehicle accidents account for a significant portion of traffic fatalities, often linked to driver error, road conditions, or vehicle malfunction. The legal implications of such data are profound, as they can influence city planning, road safety legislation, and the focus of law enforcement agencies. For personal injury law, these statistics are vital in understanding the patterns and potential preventative measures, which can be instrumental in advocating for safer roads and better-informed drivers.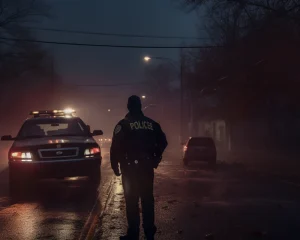 In the aftermath of a fatal car accident, the guidance of a seasoned car accident attorney becomes indispensable. Legal representation can navigate the complexities of accident claims, ensuring that the victims' rights are upheld. The Scranton Law Firm, with over 50 years of experience and a record of recovering over $1 billion for clients, stands ready to provide that expertise. If you or a loved one has been affected by the Hayward accident or a similar tragedy, reach out to ensure that justice and compensation are pursued with the dedication and empathy you deserve.
FAQs
What legal recourse is available for the families of traffic accident victims in California? In California, families of traffic accident victims can pursue a wrongful death claim to seek damages for their loss.

How can a personal injury attorney assist in the case of a traffic accident? A personal injury attorney can help navigate the legal system, advocate for the victim's rights, and pursue fair compensation for injuries and losses.

What should one do immediately following a car accident? After ensuring everyone's safety and calling emergency services, it's crucial to document the scene and contact a personal injury attorney.

How does the increase in traffic fatalities affect legal proceedings in personal injury cases? The rise in fatalities may lead to more stringent legal scrutiny of traffic accidents and potentially higher compensations for victims and their families.

What sets the Scranton Law Firm apart in handling car accident cases? The Scranton Law Firm brings over five decades of experience, a compassionate approach, and a proven track record of securing substantial settlements for clients.
Don't navigate the aftermath of a vehicle accident alone. Let the Scranton Law Firm stand by your side. With over 50 years of experience as personal injury lawyers, we've helped thousands recover from their losses. If you or a loved one are affected by a Hayward vehicle accident, don't hesitate to reach out to us. Secure your rights and seek the justice you deserve. Call us now for a free consultation – The Scranton Law Firm, your trusted ally in these challenging times. Call 800-707-0707 now.