Mini Van Crashes In To Sac McDonanlds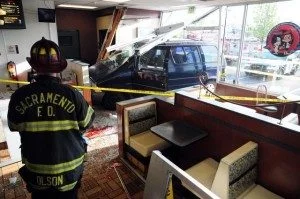 In South Sacramento Friday morning a McDonalds employee was doing her normal cleaning routine when a mini van crashed through the walls of the restaurant. The employee whose name has not yet been released was cleaning the glass on the front doors when the van hit the building injuring her and the driver of the van.
According to emergency respondents on the scene there was no life threatening injuries, however both the driver and the McDonalds employee were both taken to the hospital. One customer was injured in the accident as well with only minor injuries.
Sacramento police officers are still uncertain as to how or why the driver of the van lost control but at this moment no criminal charges are expected.
Image Courtesy of: The Sacramento Bee