Head-On Crash on Twin Cities Road Results in Death of Marcus Winkfield
Fatal Car Accident, Sacramento, Ca
Sacramento, CA – Tragic accidents, such as the recent rollover crash in Sacramento County that claimed the life of a California Department of Corrections and Rehabilitation officer, underscore the importance of understanding the legal implications that surround such incidents. This incident serves as a stark reminder to all of the hazards of driving, and the immense responsibility each of us has when behind the wheel.
53-year-old Officer Marcus Winkfield, driving a 2002 Honda Civic, was reported to have been accelerating at high speeds while traversing eastbound on State Route 104. Witnesses recounted the harrowing moment when the vehicle passed over double yellow lines, maneuvering the wrong way through a bend and tragically crashing head-on into a westbound 2016 Dodge Ram. Such a devastating event draws attention to the importance of adhering to road regulations and understanding the serious consequences of reckless driving.
Find Out If You Have A Case.
While the loss of Officer Winkfield is profoundly tragic, the driver of the Dodge Ram, a 35-year-old, escaped with complaints of back pain but refused additional medical assistance. Speeding and improper lane change, especially over double yellow lines, can be catastrophic, as exemplified by this incident. The heartbreak for Winkfield's loved ones is immeasurable, highlighted further by the CDCR's statement conveying their grief and acknowledging his significant role at the Mule Creek State Prison.
A pertinent issue in accidents like these is the role of alcohol or drugs. Initial reports suggest neither were factors in this crash. Nevertheless, it's crucial for drivers to always be in a coherent and alert state while driving to avoid such heartbreaking events.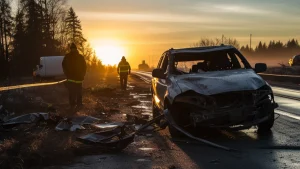 Often, victims and their families find themselves grappling with not only the emotional aftermath of such accidents but also the legal maze that can arise. Who is liable? What compensation might be available? These are critical questions, especially when it comes to seeking justice and ensuring the safety of others on the road.
The Scranton Law Firm, with over five decades of unwavering commitment to accident victims, can provide vital legal insights during such challenging times. Our seasoned professionals have successfully secured over $500,000,000 for those injured, highlighting our proficiency in navigating the intricate pathways of personal injury law.
To anyone affected by this accident or similar tragedies, we encourage you to reach out to us. With our wealth of experience and compassion, the Scranton Law Firm stands ready to support and guide you. Trust in our expertise, as countless others have, to champion your cause and to find a way forward in these trying circumstances.
In memory of Officer Marcus Winkfield, let's prioritize safety, compassion, and justice on our roads. And to those seeking answers and support, remember that we're here for you. Connect with the Scranton Law Firm and allow us to be your beacon during these dark times.
Don't navigate the aftermath of a multi vehicle accident alone. Let the Scranton Law Firm stand by your side. With over 50 years of experience as personal injury lawyers, we've helped thousands recover from their losses. If you or a loved one are affected by such tragedy, don't hesitate to reach out to us. Secure your rights and seek the justice you deserve. Call us now for a free consultation – The Scranton Law Firm, your trusted ally in these challenging times. Call 800-707-0707 now.