Fresno Tragedy: Two Toddlers in Stroller and Woman Hit on Buckingham Way
Injured Car Accident, Fresno, Ca
In the world of personal injury law, certain events stand out as stark reminders of the imperative need for safety, accountability, and vigilance on the road. A recent hit-and-run incident in Fresno's Old Fig Garden neighborhood stands as a poignant example. The California Highway Patrol reported a deeply unsettling incident where a woman and her two young toddlers fell victim to a hit-and-run driver while crossing East Buckingham Way and North Van Ness Boulevard.
A mother pushing her baby stroller containing her two young sons, aged 1 and 2, finds herself suddenly and tragically in the path of a gray sedan. The car, which had just initiated motion from a complete stop, collided with the stroller. The impact was substantial enough to overturn the stroller, subjecting the two innocent children to minor scrapes and bumps. Thankfully, they were securely buckled in, which possibly prevented more serious injuries.
Find Out If You Have A Case.
But what's perhaps even more alarming than the collision itself was the driver's response. Instead of stopping, assessing the damage, or offering assistance, the male driver chose to flee the scene. This blatant disregard for human life and responsibility underlines a severe lapse in moral and legal duty.
From a legal standpoint, hit-and-run accidents amplify the complexity of personal injury cases. They bring to the fore critical questions regarding liability, compensation, and the pursuit of justice. For victims, the emotional and psychological aftermath of such traumatic events is frequently compounded by the intricacies of the legal maze. Who's accountable? How can compensation be pursued when the at-fault party has fled the scene? How can justice be sought in such situations?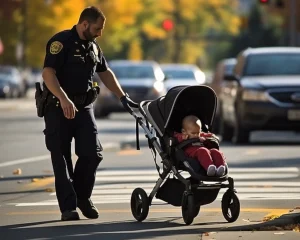 With over five decades of steadfast commitment to accident victims, the Scranton Law Firm possesses an in-depth understanding of these complex legal nuances. When it comes to hit-and-run incidents especially pedestrian accidents, the pursuit of justice demands thorough investigations, gathering of evidence, and leveraging eyewitness accounts, amongst other measures. The testimonies of bystanders and witnesses can be pivotal in tracking down errant drivers and ensuring they face the consequences of their actions.
Given the tragic nature of such incidents, it's essential for the public to remember the importance of safe driving habits, especially at stops and intersections. Always ensure the road is clear before moving, and give right-of-way to pedestrians. It's a simple practice that can prevent grave accidents and uphold the safety of all road users.
For anyone impacted by this incident, or similar heart-rending events, the Scranton Law Firm is here to assist. Our seasoned pedestrian accident attorneys have successfully secured over $1,000,000,000 for the injured, underlining our adeptness in maneuvering the intricate corridors of personal injury law. Don't navigate these troubling times alone. Trust in our vast experience, like countless others have, to advocate for your cause and shine a light on your path forward. For unparalleled legal support, reach out to us. The Scranton Law Firm is ready to be your pillar of strength in such trying times.