Fourth of July Tragedy: 62-Year-Old Killed by Fire Department Vehicle in Clovis
Fire Truck Fatal Accident, Clovis, Ca
Clovis, CA – In a tragic incident on July 4, 2023, a 62-year-old man, Melchor Mendoza, lost his life after being hit by a Clovis Fire Department Ford F250 truck in Clovis, California. Our hearts at the Scranton Law Firm extend our deepest condolences to all involved in this unfortunate accident. It's a grim reminder of the fatal consequences that can arise on our roads, even amidst the noblest of duties—emergency response.
According to the California Highway Patrol (CHP), the Fire Department vehicle was responding to an emergency with lights and sirens fully activated. This corresponds with Vehicle Code 21055, which permits emergency vehicles to disregard certain traffic rules while responding to emergencies, provided lights and sirens are operational. However, even then, the law mandates these vehicles to drive with due regard for the safety of all persons using the highway.
Find Out If You Have A Case.
From a legal perspective, accidents of this nature raise a multitude of questions surrounding pedestrian safety laws, duty of care, and the concept of contributory negligence. It is crucial to understand these elements as they shape the process of seeking compensation in personal injury cases.
On the other hand, pedestrians also bear a responsibility for their safety. The law stipulates that pedestrians should not abruptly leave a curb or other place of safety and walk or run into the path of a vehicle that is so close as to constitute an immediate hazard. Regrettably, Mendoza was not in a crosswalk when the incident occurred, and investigators believe he may have been under the influence of alcohol. These factors could contribute to a possible case of contributory negligence.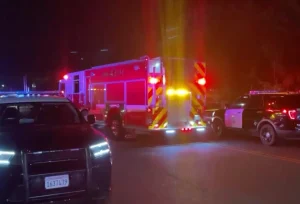 The investigation by CHP, requested by the Clovis Police Department, underpins the importance of impartial inquiry in cases involving public entities. Full cooperation by the Clovis Fire Department demonstrates the commitment to transparency and justice, which is pivotal in these tragic scenarios.
While there is a shared responsibility between motorists and pedestrians to ensure road safety, accidents, unfortunately, still occur. When they do, the Scranton Law Firm, with over five decades of personal injury experience and a history of recovering more than $500,000,000 for our clients, is here to help navigate the complexities of these emotionally charged and legally challenging situations.
If you or someone you know has been injured in an accident, similar to the one in Clovis, it's important to seek legal guidance promptly. Legal timelines, known as statutes of limitations, set a time limit on how long victims or their families have to initiate legal proceedings.
Lastly, let this tragic event serve as a reminder to us all about the importance of pedestrian safety and sober judgment. The CHP's poignant reminder is worth echoing: Always use crosswalks when they're available and remember to yield to emergency vehicles, even in a crosswalk.
As you grapple with the aftermath of a personal injury incident, you're not alone. At the Scranton Law Firm, we understand that you're dealing with more than just legal matters, but a life-altering event. Reach out to us, let's chart a path to justice and recovery together.
Accidents change lives. But with the right legal guidance, they don't have to define them. Allow us at Scranton Law Firm to be the strength in your corner, turning a tragic accident into a journey towards justice and compensation. Contact us today, because your tomorrow matters to us.