What Is Premises Liability?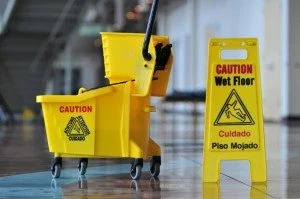 If a person is injured on the property of another they may be able to recover compensation for their injuries from the owner or possessor of the property on which the injury occurred. Some of the more common types of premises liability cases include the following:
* Slip & Fall Accidents  (the number one cause)
* Dog Bite Or Animal Attack
* Inadequate Maintenance
* Construction Accidents
* Security Negligence
According to the U.S. Department of Justice, victims of premises liability injuries receive nearly $4 billion each year. That makes this type of compensation among the highest of any damage payments in the United States.
The extent to which a property owner can be held liable for damages that occurred while a plaintiff was on his or her property depends on whether the plaintiff was a licensee, an invitee, or a trespasser.
* A licensee is a person who enters the property as a guest, perhaps an
onlooker at a parade, or the like. The owner is liable for any injury if he/she
knew of a dangerous condition and did not inform the licensee.
* An invitee is invited on the property for the benefit of the owner, such
as entering a grocery store. The owner must protect all invitees from harm.
* A trespasser enters the property without invitation, written or expressed.
Property owners are generally not liable for any harm to trespassers since they are not present to warn of potential dangers. If an owner is aware of a trespasser, he or she is obligated only to exercise ordinary caution.
Such classifications can be difficult to determine in cases where the status of the plaintiff – licensee, invitee, or trespasser – is unclear. Determining this status is often the first important step in a premises liability claim. An experienced premises liability lawyer is often vital to such a case to evaluate the facts of the accident and determine the circumstances under which the injury occurred, and the extent to which the damages can be pursued.
If you or a loved one has been injured due to a negligent property owner contact the Scranton Law Firm we have helped thousands of injured clients with there premises liability settlements . Let us deal with the insurance companies so you don't have to.  Call 24/7 to schedule a free consultation 1 800 400 8742.