Fed Ex Truck Hits Charter Bus Filled With Students Killing 10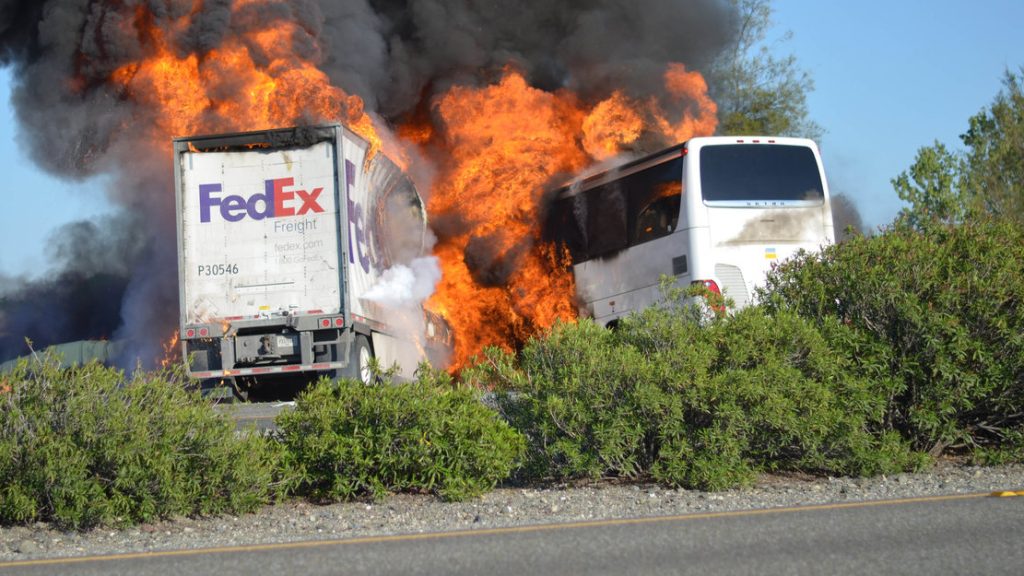 A tragedy struck on Highway 5 Thursday night when a Fed Ex delivery truck swerved colliding head on with a charter bus filled with students. The students were on there way to a Humboldt State University's Northern California campus for the school's April 12 'Spring Preview Day.
The accident occurred around 5:30 pm on Interstate 5 right near the town of Orland, a small town about 100 miles from Sacramento. According to officials the Fed Ex truck swerved and crossed over the grass and shrub median dividing the traffic and clipped a white passenger vehicle before crashing head on in to the charter bus. Both vehicles were quickly engulfed in flames.
Many of the survivors escaped through emergency exits while others broke through glass jumping out windows to get to safety. While there has been no official counts yet the unofficial word is that 10 people died in the accident and 30 people  received various degrees of injuries. As of last reports 4 students are still in critical condition at the UC Davis Medical Center and Enloe Medical Center
Both the driver of the bus and the Fed Ex truck died on impact. Three adult chaperones and five students were also killed in the accident.
The 44 teenagers aboard, nearly half from the Los Angeles school district, were participating in a program that invites prospective low-income or first-generation college students to visit college campuses.
Fed Ex has put out this statement,
All of us at FedEx are deeply saddened by the tragic highway accident in California," the statement said. "Our hearts go out to all of those involved and their families. We are cooperating fully with the officials investigating this accident.
Families of the crash victims are encouraged to call Red Cross for more information.
The Scranton Law Firm has Started A Free Legal Advice Hotline For Victims Of This Tragic Accident
Image Courtesy of: Jeremy Lockett/AP