Fatal Motorcycle Accidents in Martinez Leaves One Dead
Fatal Motorcycle Accident, Martinez, Ca
In the picturesque town of Martinez, two harrowing incidents over the weekend have once again brought to light the unforeseen dangers that motorcyclists face on a daily basis. Such accidents not only leave an indelible mark on the lives of the victims' families but also pose numerous legal implications. The nature of these accidents, and the laws governing them, can be intricate, requiring an experienced eye to sift through the nuances.
Late Saturday evening, on the crossroads of Alhambra and Truitt Avenues, tragedy struck when a motorcyclist lost control of his Harley Davidson, ultimately colliding with a Jeep. The rider, who remains unidentified, was ejected from his bike and suffered a fatal blow when he hit his head on the ground. Eyewitnesses noted the rider's choice of a small "half helmet," a decision that could be a significant factor in understanding the severity of his injuries. It's worth noting for motorcyclists and legal experts alike the importance of protective gear and the potential legal ramifications of not wearing appropriate safety equipment.
Find Out If You Have A Case.
The Jeep's driver, showcasing responsibility and empathy, remained on-site, promptly calling for help. Such actions, commendable in their own right, play a vital role legally. Fleeing the scene of an accident can compound the legal complexities for all involved. The diligence of the Jeep's driver in this scenario will likely be a cornerstone of the police investigation.
This was not the only motorcycle accident today. In a separate incident, just a stone's throw away at the junction of Vine Avenue and Pacheco Boulevard, another motorcyclist met with a fatal accident. The California Highway Patrol identified the victim as 25-year-old Lorenzo Algood. Tragically, while cruising east on Pacheco Boulevard, Algood collided with a legally parked Nissan truck. What's particularly distressing is that this pickup was unoccupied, making this accident an unfortunate twist of fate.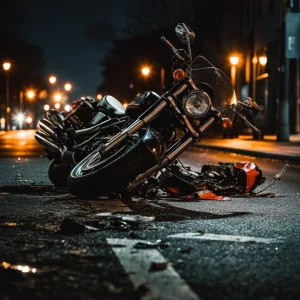 Algood's demise at the hospital, following the accident, raises pressing questions about the responsibility of vehicle owners, even when their vehicles are parked. Is the location where the truck was parked commonly used for parking? Was it adequately visible to oncoming traffic? These are just some of the questions that legal experts would ponder upon while dissecting such an incident.
Both accidents are a grim reminder of the unpredictability of life and the risks that motorcyclists face. As investigators work diligently to piece together the exact series of events, families grieve, and a community is left to rally around them.
The legal intricacies of motorcycle accidents, be it questions about safety gear, parked vehicles, or liability, require a seasoned hand to navigate. For those impacted by such tragedies, seeking clarity amidst the chaos can seem overwhelming. Thats why its so important to seek the counsel of an experienced motorcycle accident lawyer.
It is in such moments of vulnerability and confusion that the Scranton Law Firm steps in. With over 50 years of experience and having successfully recovered more than $1,000,000,000 for clients, our firm stands as a beacon of hope, expertise, and compassion. If you or a loved one has been embroiled in a fatal accident, trust in our unparalleled expertise and our unwavering commitment to fighting for justice.
Remember, in the darkest moments, you don't have to face it alone. Let the Scranton Law Firm be your guiding light. Contact us today, and let's ensure justice is not just served but is rightfully claimed.
Don't navigate the aftermath of a fatal motorcycle accident  alone. Let the Scranton Law Firm stand by your side. With over 50 years of experience as personal injury lawyers, we've helped thousands recover from their losses. If you or a loved one are affected by a Bay Area motorcycle accident, don't hesitate to reach out to us. Secure your rights and seek the justice you deserve. Call us now for a free consultation – The Scranton Law Firm, your trusted ally in these challenging times. Call 800-707-0707 now.