Fatal Motorcycle Accident in Roseville: 1 Dead Another Injured
Fatal Motorcycle Accident, Roseville, Ca
Fatal Motorcycle Accident in Roseville
Roseville, CA –Accidents are tragic events that can change lives in an instant. The recent motorcycle accident in Roseville, California, is a somber reminder of the unpredictable nature of life and the importance of seeking justice when negligence is involved.
The Incident
On September 5, 2023, at around 5:00 p.m., a devastating accident occurred at the intersection of Sunrise Avenue and Cirby Way in Roseville. According to reports from the Roseville Police Department and various news outlets, the accident involved two motorcycles and an SUV. The circumstances leading to the collision remain unclear.
Find Out If You Have A Case.
However, the aftermath was heart-wrenching. One of the motorcyclists tragically lost his life, while the other sustained serious injuries and was rushed to a nearby hospital. The SUV involved in the accident suffered damage to its driver side, though it remains unknown if the SUV driver sustained any injuries.
Legal Implications
From a legal standpoint, several questions arise from this incident:
Liability: Who was at fault? Was it the motorcyclist, the SUV driver, or a combination of both? Determining liability is crucial for any personal injury claim.
Negligence: Were any of the involved parties acting negligently? For instance, was the SUV driver distracted or under the influence? Or did the motorcyclists fail to adhere to traffic rules?
Compensation: Given the severity of the accident, the injured party or the deceased's family might be entitled to compensation. This could cover medical bills, loss of income, pain and suffering, and in the case of a fatality, funeral expenses.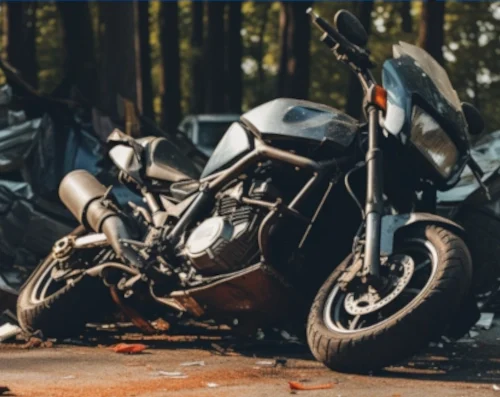 Why Legal Representation Matters?
In the aftermath of such a traumatic event, victims and their families are often overwhelmed with grief, medical expenses, and the daunting legal process. This is where the expertise of a motorcycle accident lawyer becomes invaluable. An experienced attorney can navigate the complexities of the legal system, ensuring that justice is served and that victims receive the compensation they deserve.
Conclusion & Call to Action
Accidents like the motorcycle accident today on Sunrise Avenue are tragic and serve as a stark reminder of the fragility of life. At Scranton Law Firm, we extend our deepest condolences to the family and friends of the victim. Our team is dedicated to ensuring that justice is served and that victims and their families receive the support they need during these challenging times. If you or a loved one has been involved in a similar accident, please reach out to us. Our team of experts is here to help.
FAQs
What should I do immediately after a motorcycle accident?

Ensure your safety, seek medical attention, gather evidence, and contact a motorcycle accident lawyer.

How is liability determined in a motorcycle accident?

Liability is determined based on evidence, witness statements, and expert testimonies. Factors like speeding, distraction, and impairment are considered.

Can I claim compensation if the accident was partly my fault?

Yes, California follows a comparative negligence rule, meaning you can claim compensation even if you were partly at fault. However, your compensation might be reduced based on your percentage of fault.

How long do I have to file a lawsuit after a motorcycle accident?

In California, the statute of limitations for personal injury claims is two years from the date of the accident.

Why should I hire a California motorcycle accident lawyer?

A specialized lawyer can help you navigate the legal process, negotiate with insurance companies, and ensure you receive the compensation you deserve.
Don't navigate the aftermath of a fatal pedestrian accident alone. Let the Scranton Law Firm stand by your side. With over 50 years of experience as personal injury lawyers, we've helped thousands recover from their losses. If you or a loved one are affected by a Hayward fatal pedestrian accident, don't hesitate to reach out to us. Secure your rights and seek the justice you deserve. Call us now for a free consultation – The Scranton Law Firm, your trusted ally in these challenging times. Call 800-707-0707 now.