Deadly Two-Vehicle Crash on Akers Road in Bakersfield Results in One Fatality
Fatal Car Accident, Bakersfield, Ca
Bakersfield, CA – In the early hours of a Friday morning in Southwest Bakersfield, a devastating accident claimed the life of a man and left others injured. Two vehicles collided at the intersection of Pacheco and Akers roads. The grim event serves as a stark reminder of the risks we face on the road every day, and the legal considerations that come into play when personal injury and loss of life are involved.
According to the Bakersfield Police Department, a male driver traveling north on Akers Road collided with another vehicle going west on Pacheco Road. The force of the collision sent the man's vehicle careening out of control, crashing into a fence before rolling over. This tumultuous chain of events led to the male driver and his female passenger being ejected from the car, a scenario often resulting in serious injuries or even death.
Find Out If You Have A Case.
Sadly, this was the case here. Despite the best efforts of emergency personnel, the man succumbed to his injuries at the scene. His passenger, a female, was fortunate enough to escape with minor injuries. The other vehicle, driven by a woman, was left unscathed. However, her passenger wasn't as lucky and had to be hospitalized.
Through a legal lens, accidents like this raise questions around negligence, duty of care, and liability. While speed is currently believed to be a factor in this accident, it's the responsibility of the investigating officers and, in many cases, personal injury lawyers, to discern who was at fault. It's worth noting that liability can be shared in some scenarios, which can impact the amount of compensation that can be claimed in a personal injury case.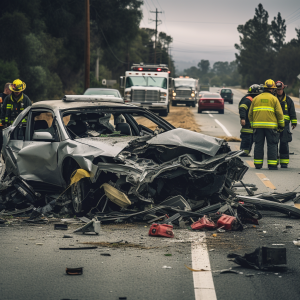 There are numerous factors at play in personal injury law, especially in the aftermath of an accident like this. For the victims involved, dealing with the immediate trauma and subsequent medical treatment can be an overwhelming experience. This is where personal injury lawyers step in, providing expertise and guidance, helping victims navigate the complex legal landscape while advocating for their rights and entitlements.
It's important to remember that time is of the essence in situations like these. Legal procedures can be daunting, and time limits can restrict the pursuit of certain claims. Act swiftly, consult with a legal professional to understand your rights, and take action accordingly.
Scranton Law Firm is here for those touched by this accident and others like it. With over 50 years of experience and more than $500,000,000 recovered for our clients, our team of expert personal injury lawyers is committed to helping you in these trying times. Whether you are a victim or have lost a loved one in an accident, don't face this legal battle alone.
Reach out to Scranton Law Firm today and let us stand by you in this fight. Let us turn our collective empathy into action, ensuring your voice is heard and your rights are defended. In your moment of need, choose experience, choose compassion, choose Scranton.
Don't navigate the aftermath of a fatal car accident alone. Let the Scranton Law Firm stand by your side. With over 50 years of experience as personal injury lawyers, we've helped thousands recover from their losses. Don't hesitate to contact us if you or a loved one are affected by a fatal car accident. Secure your rights and seek the justice you deserve. Call us now for a free consultation – The Scranton Law Firm, your trusted ally in these challenging times. Call 800-707-0707 now.