Deadly Motorcycle Accident in Fresno County: Two Men Die on Mt Whitney Avenue
Fatal Motorcycle Accident, Fresno, Ca
Fresno, CA – In Fresno County, the harsh realities of motorcycle accidents were underscored on August 17, 2023, when a devastating crash between two motorcycles resulted in the tragic loss of two lives. The victims, identified as 43-year-old Adell Vaughn and 38-year-old Catlin Lewis, both from Riverdale, collided with each other on Mt. Whitney Avenue near Garfield Avenue.
The very nature of motorcycles, which lack the protective shell of cars and trucks, makes riders especially vulnerable. This vulnerability is exponentially compounded when the riders decide against using basic safety gear such as helmets. According to the California Highway Patrol, it was determined that both men, despite knowing each other and the inherent risks, chose not to wear helmets. An alarming detail emerged from the aftermath of the crash: neither of the motorcycles was equipped with working lights.
Find Out If You Have A Case.
Motorcycle safety is a topic often spoken about, yet frequently overlooked. The absence of working lights raises a plethora of legal questions. From a legal standpoint, ensuring that one's vehicle is in proper working order, particularly with regard to safety features such as lights, is paramount. Failing to do so not only places oneself at risk but also jeopardizes the safety of others on the road.
It's important to highlight that while the investigation is still ongoing, understanding the nuances of personal injury law can be instrumental in these cases. When we analyze events like this through a legal lens, factors like the lack of helmets, the absence of working lights, and the exact cause of the collision itself can play a pivotal role in determining liability and compensation.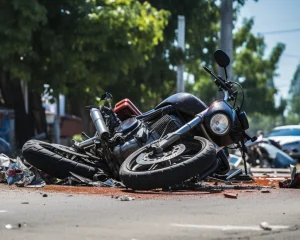 For those grieving the loss of a loved one in similar circumstances, seeking justice and understanding legal avenues can be complex after a California motorcycle accident . The law offers avenues for victims' families to seek compensation, not only for the tangible damages like medical expenses and funeral costs but also for the immeasurable pain and suffering endured.
The Scranton Law Firm has consistently demonstrated a deep commitment to victims of personal injury for over five decades. With a staggering record of recovering more than $500,000,000 for clients, our team offers unparalleled expertise in navigating the intricacies of the legal system, especially in the realm of motorcycle accidents.
To those affected by such heart-wrenching incidents, we understand the profound impact it has on your lives. The path forward may be arduous, but you don't have to walk it alone. Place your trust in the seasoned experts at the Scranton Law Firm. Reach out to us. Let our five decades of relentless advocacy, compassion, and unparalleled expertise be your guiding light in the quest for justice and recovery.
We urge everyone to prioritize safety on the roads. And for those in search of answers and legal assistance, remember, we stand ready, with open arms, to assist and champion your cause. Contact the Scranton Law Firm, and let our experienced motorcycle accident lawyers illuminate the path to justice together.