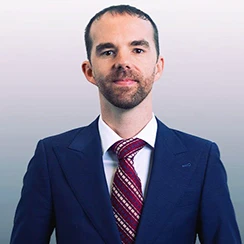 Daniel grew up in Hong Kong and spent 17 years living in Asia. After completing university with a 3.99 GPA he spent a year living and working in China before attending law school at UC Davis, where he excelled in Pre-Trial Skills, Moot Court, and Trial Practice classes. In law school Daniel was a Criminal Law Teaching Assistant for two years and spent the third year working at the Sacramento County Public Defender's Office where he represented clients in court daily. Daniel founded the King Hall Climb, Ski & Snowboard Club and also completed a two-year side project re-writing the "Intro to Law" textbook, which is required reading for all incoming first-year law students to this day. After taking the Bar Exam Daniel secured a coveted position working remotely for UC Davis School of Law as a postgraduate Research Assistant while traveling more than 3,000 km by motorcycle across southern India.
Prior to discovering his love for personal injury, Daniel was involved in a variety of interesting legal projects, including researching and writing an Appellants' Reply Brief for the 9th Circuit Court of Appeals, working for a small cannabis law firm in Nevada City, and being selected to scrutinize recorded audio from mortgage-backed securities deals for non-compliance with securities laws as part of the DOJ's investigation of Barclay's Capital following the 2008 subprime mortgage market crisis. Daniel also lived in Chicago where he worked at Axiom Global Solutions as a Data Privacy Investigator for McKesson Corporation and later as a Commercial Contracts Negotiator for Allergan where he negotiated a wide variety of pharmaceutical contracts while managing the company's digital contract archiving database.
After witnessing a tragic act of negligence that left a beloved family member paralyzed, Daniel came to realize the great need for dedicated personal injury lawyers to fight against the deceit and greed of large insurance corporations and has dedicated himself to a career in Plaintiff's personal injury ever since. Prior to working at Scranton Law Firm, Daniel was a litigation attorney for several years at a personal injury firm in downtown Oakland where he cut his teeth fighting hard against experienced trial lawyers to secure outstanding results for his clients. Currently, at Scranton Law Firm, Daniel is the Pre-Litigation Managing Attorney and enjoys providing leadership to his legal team and aggressive representation to his clients. Daniel is admitted to practice in the United States Federal Court, Northern District. Outside of work, Daniel is a passionate rock climber who has traveled and climbed around the world. He has made numerous ascents of big walls in Yosemite including a 15-hr ascent of the Northwest Face of Half Dome and a winter ascent of El Capitan. He brings this same level of dedication and perseverance to his role as a member of Scranton Law Firm, and is a solid member of our team.