CHP Officer Forced Into Collision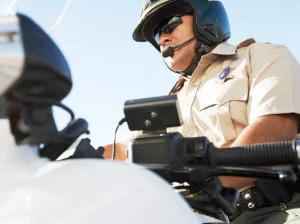 A Monterrey County Highway Patrol officer on a routine patrol of Highway 101 near Prunedale was forced into a rear end collision with a Silver Acura SUV. According to CHP officials the driver slammed on the brakes forcing the officer to crash her CHP motorcycle in to the back of the Acura.
According to the officer it was around noon Sunday when she saw the Acura speeding northbound on HWY 101 near the intersection of HWY 156. She pulled behind the Acura and flashed her lights attempting to pull the vehicle over and at that moment the driver of the Acura slammed on the brakes slowing it from over 80 miles an hour to an almost dead stop in the middle of the fast lane of HWY 101.
The officer attempted to swerve out of the way of the vehicle but the erratic braking forced her to collide with the Acura throwing her off the bike injuring much of her right side, and causing major damages to the motorcycle. The officer said that the driver looked back at her laying on the ground then sped off.
The Monterey County CHP is asking for the public's help finding the silver Acura and identifying its driver. Anyone with information is encouraged to call 831-796-2160.
Original Source: KSBW Action News