Cement Truck Overturned In Redding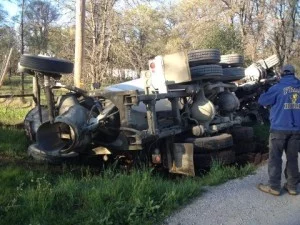 In Redding this morning a Shasta Redi-Mix truck was involved in a roll over accident early this morning while doing work in southeast Redding.
According to CHP Officers on scene the fully loaded truck was working near Penrod Avenue south of Cristopher Lane when the truck overturned.
While attempting to back up the driver hit an unseen drop off on the side of the road. His wheels went over the side and he lost control of the truck forcing the fully loaded truck to roll over landing on its side.
Luckily the driver walked away unscathed and required no medical attention. Crews are working right now to get the fully loaded truck upright so it can be towed.
Image Courtesy of: KRCR 7