Capital City Freeway Incident Results in Fatal Collision on Auburn Boulevard
Fatal Car Accident, Sacramento, Ca
Sacramento, CA – On the morning of July 4th, 2023, a fatal accident disrupted the calm of north Sacramento, claiming the life of a 37-year-old man and inflicting severe injuries on a 53-year-old. The collision occurred when a Lexus RX300 SUV veered off the northbound lanes of Capital City Freeway, penetrating the separating chain-link fence, and plowed into a Toyota Camry on Auburn Boulevard, south of Watt Avenue.
From a legal perspective, this incident highlights the serious risks and potential negligence associated with vehicle operation. One must understand the stringent duty of care every motorist is obligated to maintain – an obligation to conduct oneself with the attentiveness and caution of a reasonable person.
Find Out If You Have A Case.
In this particular case, several factors warrant thorough investigation and legal consideration. The abrupt departure of the Lexus SUV from the freeway, and its intrusion onto Auburn Boulevard, raises questions about the 53-year-old driver's adherence to the expected duty of care. Was there reckless driving, distraction, or was a medical emergency at play? The current reports indicate the police have yet to determine whether alcohol or drugs contributed to this tragic event.
The fatal impact on the unfortunate Toyota Camry driver – identified by the Sacramento County Coroner's Office as Wilson Alexis Rivas – underscores the devastating consequences negligent driving can impart on innocent parties. As car accident lawyers, we often encounter heart-wrenching stories of loss due to motor vehicle accidents, reminding us of the critical importance of advocating for victims and their families in the quest for justice and fair compensation.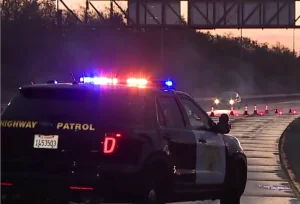 The situation becomes increasingly complex due to the unique geographical relationship between Auburn Boulevard and the Capital City Freeway. They run parallel and are separated only by a chain-link fence, which failed to prevent this fatal crossover accident. This scenario provokes questions about infrastructure safety and whether effective barriers were in place to safeguard drivers on Auburn Boulevard from potential freeway traffic intrusions.
In the face of such life-altering tragedies, the Scranton Law Firm is committed to fighting for justice for those harmed by the negligence of others. With over 50 years of expertise in handling all kinds of accidents and recovering more than $500,000,000 for our clients, our firm has demonstrated a long-standing commitment to our community's safety and legal rights.
Victims' rights must not be overlooked, particularly in scenarios of significant injury or loss of life. As the investigation unfolds, parties directly or indirectly affected by this accident must be aware of their rights and potential avenues for compensation for medical expenses, emotional distress, lost wages, and more.
Now more than ever, the impacted parties and their loved ones need a strong advocate who understands the labyrinthine intricacies of personal injury law. For those of you touched by this tragedy or a similar accident, the Scranton Law Firm is here to guide you through this challenging time. We will tirelessly work to seek justice and secure the compensation you are rightfully owed.
Your pain and loss are real, and you deserve to have your voice heard. Reach out to us at the Scranton Law Firm and let our half-century of legal expertise work towards your healing and recovery. Together, we can navigate this difficult journey towards justice and peace of mind.
Don't navigate the aftermath of a fatal car accident alone. Let the Scranton Law Firm stand by your side. With over 50 years of experience as car accident attorneys, we've helped thousands recover from their losses. If you or a loved one are affected by such tragedy, don't hesitate to reach out to us. Secure your rights and seek the justice you deserve. Call us now for a free consultation – The Scranton Law Firm, your trusted ally in these challenging times. Call 800-707-0707 now.