A Pedestrian, & 2 others, Injured in a Traffic Accident in Fresno Ca
Pedestrian Accident, Fresno, Ca
Several Injured in a Traffic Accident At Herndon & Blackstone, Fresno CA 
Fresno, CA – Recent reports from Fresno, California, detail a distressing pedestrian accident that occurred at the intersection of Herndon Avenue and Blackstone Avenue. The incident, which resulted in injuries to three individuals, serves as a poignant reminder of the ever-present dangers on our roads.
The Incident
The accident unfolded at one of Fresno's intersections, where pedestrians often assume safety. Three individuals were struck by a vehicle under circumstances that are currently under thorough investigation. Early reports do not conclusively establish the cause but suggest a potential failure to yield on the part of the vehicle involved.Herndon an
Find Out If You Have A Case.
Legal Implications
Pedestrian accidents, unfortunately, are not uncommon in Fresno or the wider California area. According to data from the California Office of Traffic Safety, pedestrian fatalities and injuries are a significant concern, with numbers steadily climbing over recent years.
In this specific incident, several legal considerations come to the forefront. The question of right-of-way is paramount, as California laws dictate clear guidelines for vehicles regarding yielding to pedestrians. Furthermore, any indication of distracted driving, speeding, or impairment could substantially impact the legal consequences for the driver involved.
The road to recovery after a pedestrian accident can be long and fraught with challenges. At Scranton Law Firm, we have over 50 years of experience and a record of recovering over $1,000,000,000 for our clients. Our expertise in personal injury law places us in a unique position to advocate effectively for your rights and ensure you receive the compensation you deserve.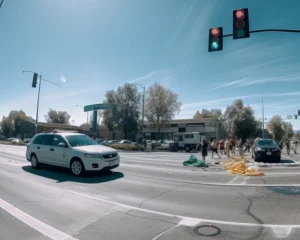 If you or someone you know has been involved in this or a similar accident, we encourage you to reach out. At Scranton Law Firm, we combine legal prowess with empathy, standing as a pillar of support for those affected by such unfortunate events.
FAQ's
1. What steps should I take immediately following a pedestrian accident in Fresno? Prioritize your health; seek medical attention even if injuries seem minor. Report the accident to the police and gather contact information from any witnesses.
2. Who determines fault in pedestrian accidents, and how is it determined? Fault is typically determined by law enforcement and insurance companies, based on evidence, witness testimonies, and traffic laws regarding pedestrian rights and driver responsibilities.
3. In Fresno, can I still claim compensation if I'm partly at fault for the accident? Yes, California's comparative negligence law allows you to claim compensation even if you are partly at fault, though your compensation may be reduced by your percentage of fault.
4. What is the deadline for filing a pedestrian accident claim in California? In California, you generally have two years from the date of the accident to file a personal injury claim, though certain conditions might alter this period.
5. What types of damages can I seek in a pedestrian accident lawsuit in Fresno? Victims can seek compensation for medical expenses, lost income, pain and suffering, and in some cases, punitive damages, depending on the specifics of the case.
Don't navigate the aftermath of a pedestrian accident alone. Let the Scranton Law Firm stand by your side. With over 50 years of experience as personal injury lawyers, we've helped thousands recover from their losses. If you or a loved one are affected by a Fresno pedestrian accident, don't hesitate to reach out to us. Secure your rights and seek the justice you deserve. Call us now for a free consultation – The Scranton Law Firm, your trusted ally in these challenging times. Call 800-707-0707 now.