A 70-year-old Woman is Dead after a Tragic Accident in Modoc County
Fatal Accident, Modoc County, CA
Fatal Accident Involving a Tow Truck
Modoc County, CA -Tragedy strikes when least expected, and the winding roads of Modoc County were the latest witness to a life-altering event that reminds us of the fragility of life on the road.
The Incident
On a seemingly ordinary Friday afternoon, November 3, 2023, the tranquility of Modoc County was shattered by the screech of tires and the devastating aftermath of metal upon metal. A 70-year-old woman's journey came to an abrupt and tragic end on Highway 299 when her GMC Sierra collided with a Chevrolet 6500 tow truck. The incident occurred around 4:15 p.m., as the tow truck, navigated by 44-year-old Brian B., veered across lanes while rounding a curve and initiated the fatal encounter. The aftermath was grim: the elderly driver succumbed to her injuries, while the tow truck driver was left with severe injuries, necessitating an airlift to Mercy Medical Center in Redding. Authorities have ruled out alcohol and drugs as contributing factors, leaving a community to mourn and seek answers.
Find Out If You Have A Case.
Legal Implications
The heartrending incident on Highway 299 is a stark reminder of the legal complexities that arise from roadway tragedies. In California, the law provides for the pursuit of justice through wrongful death and personal injury claims, yet the path is fraught with intricate legal challenges. The bereaved family of the 70-year-old woman may seek damages for their loss, which encompasses not just the economic toll but also the profound emotional suffering. The legal system, while offering a framework for compensation, demands a rigorous substantiation of negligence, which in cases involving commercial vehicles like tow trucks, can involve multiple parties from drivers to trucking companies.
The statistics paint a sobering picture of road safety in California. In 2020, the state witnessed 3,847 fatal vehicle collisions, a figure that underscores the prevalence of road accidents and their devastating outcomes. The legal implications of such statistics are significant, as they reflect potential systemic issues in traffic management and vehicle safety standards. For individuals like Brian B., the tow truck driver, the consequences may extend beyond physical recovery to include liability assessments and insurance claims, which can be a labyrinthine process requiring expert legal navigation. In Modoc County, where the accident occurred, the rate of fatal and injury collisions per 100,000 population stood at 1,073.9 in 2020, mirroring the broader national trend of increasing road fatalities, which surged past 42,000 in 2022.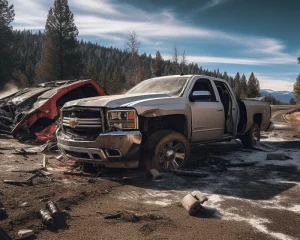 In the wake of such a calamity, the counsel of a seasoned semi-truck accident lawyer or a Fresno personal injury attorney becomes invaluable. Legal representation can navigate the complexities of accident claims, ensuring that the victims' rights are protected and that they receive the compensation they deserve. The Scranton Law Firm, with over 50 years of experience and a track record of recovering over $1 billion for clients, stands as a beacon of hope and advocacy for those engulfed in the aftermath of such tragedies. If you or a loved one have been affected by this incident or a similar misfortune, reach out to the Scranton Law Firm for a compassionate and competent legal ally.
FAQs
Q: What immediate steps should I take if involved in a two-vehicle collision? A: Ensure safety first, then exchange information, document the scene, seek medical attention, and contact a personal injury attorney.
Q: How long do I have to file a claim after a car accident in California? A: The statute of limitations for personal injury claims in California is generally two years from the date of the accident.
Q: Can I claim compensation if a family member is fatally injured in a car accident? A: Yes, you may be entitled to file a wrongful death claim to seek damages for your loss.
Q: What kind of compensation can I expect from a car accident claim? A: Compensation can include medical expenses, lost wages, pain and suffering, and in some cases, punitive damages.
Q: Why is legal representation crucial in the event of a car accident? A: An attorney can provide expert guidance, manage negotiations with insurance companies, and help maximize the compensation you receive.
Don't navigate the aftermath of a tow truck accident alone. Let the Scranton Law Firm stand by your side. With over 50 years of experience as personal injury lawyers, we've helped thousands recover from their losses. If you or a loved one are affected by a Modoc County tow truck accident, don't hesitate to reach out to us. Secure your rights and seek the justice you deserve. Call us now for a free consultation – The Scranton Law Firm, your trusted ally in these challenging times. Call 800-707-0707 now.