2 Year Old Killed In Fatal Parking Lot Accident
Fatal Pedestrian Accident, Fremont, Ca
Fremont, CA  – In a devastating incident that has left the community in shock, 2-year-old Leonid Grigorev was fatally struck by an SUV in a Fremont, California parking lot. As a Fremont personal injury attorney with years of experience, it's crucial to dissect this tragic event from a legal standpoint. This article aims to provide valuable insights that could help prevent future tragedies and guide families who find themselves in similar devastating situations.
On August 24, 2023, at approximately 6 p.m., Leonid Grigorev was in a business center parking lot on Mowry Avenue when he was struck by an SUV.  The driver remained at the scene and is cooperating with the police investigation. However, many questions remain unanswered, including the speed of the SUV and whether it was moving forward or reversing at the time of the accident.
Find Out If You Have A Case.
Duty of Care
In legal parlance, "duty of care" refers to the moral and legal obligation to ensure the well-being of others. In the context of driving, this duty is heightened in areas like parking lots, where pedestrians, and particularly children, are often present. Did the driver in question exercise this duty of care? That's a question that a Fremont car accident attorney would seek to answer.
Negligence and Liability
Initial reports suggest that neither speed nor impairment were contributing factors. However, this does not automatically absolve the driver of liability. A comprehensive investigation is essential to rule out other forms of negligence, such as distracted driving or vehicle malfunction. These are critical points that any skilled Fremont personal injury lawyer would investigate.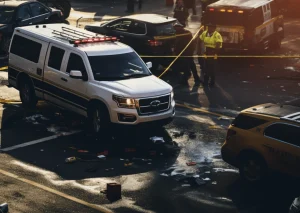 Wrongful Death Claim
The family of Leonid Grigorev may be considering a wrongful death claim, a legal action that can provide compensation for a range of losses, including emotional and financial. While no amount of money can bring back their child, a successful claim can offer some form of relief during this difficult time.
Parking Lot Accidents: A Closer Look
Common Causes
Parking lot accidents are more common than most people think. They often occur due to:
Distracted Driving: Activities like texting or changing the radio station can be fatal.
Poor Visibility: Many parking lots are not well-lit, making it difficult to see pedestrians.
Reckless Behavior: Ignoring stop signs or speeding can lead to accidents.
Legal Remedies
Victims have several legal avenues available:
Personal Injury Claims: For those who survive with injuries.
Wrongful Death Claims: For families who have lost a loved one.
Property Damage Claims: For damage to personal property.
Preventive Measures
Prevention is always better than cure. Simple steps can make a difference:
Increased Awareness: Both drivers and pedestrians must be alert.
Proper Signage: Clear and visible signs can guide behavior.
Speed Limits: Adhering to speed limits can prevent many accidents.
The Role of Legal Representation
Legal guidance is invaluable in the aftermath of such a tragic event. A qualified Fremont personal injury attorney can navigate the complexities of the law to ensure that justice is served and appropriate compensation is secured.


Frequently Asked Questions
What is a Wrongful Death Claim?
A wrongful death claim is a legal action that can be filed by the family of someone who has died due to the negligence or misconduct of another. In the case of Leonid Grigorev, if it's determined that the driver was negligent, the family may have grounds to file such a claim.
How Long Do Families Have to File a Wrongful Death Claim?
The statute of limitations varies by state. In California, the general rule is that a wrongful death claim must be filed within two years of the date of the person's death. Consulting a Fremont wrongful death attorney as soon as possible is crucial.
What Types of Compensation Can Be Recovered?
Compensation in wrongful death cases can cover medical and funeral expenses, loss of income, loss of companionship, and emotional suffering. Each case is unique, so the amount of compensation will vary.
Are Parking Lot Accidents Common?
Yes, parking lot accidents are more common than most people realize. According to the National Safety Council, at least one in five accidents occur in parking lots, resulting in significant injuries and fatalities each year.
What Should Witnesses Do?
If you witnessed the accident, it's crucial to come forward. Your testimony could be vital in establishing the facts of the case. The Fremont Police Department is urging witnesses to provide any information they may have.
Can Property Owners Be Held Liable?
In some cases, yes. If the parking lot was poorly lit or had inadequate signage, the property owner might also be held partially responsible for the accident. A Fremont personal injury lawyer can help determine this.
How Can Such Accidents Be Prevented?
Preventive measures include better lighting in parking lots, clear signage, and public awareness campaigns. Drivers should always be extra cautious in parking lots, and pedestrians should be aware of their surroundings.
What Should You Do If Involved in a Similar Accident?
First, seek medical attention immediately. Then, consult a Fremont car accident attorney to understand your legal rights and options. Gathering evidence and acting quickly can be crucial for your case.
The tragic loss of 2-year-old Leonid Grigorev in a Fremont parking lot serves as a sobering reminder of the dangers that can lurk in even the most mundane places. If you or a loved one has been affected by a similar tragedy, you don't have to navigate this challenging time alone. The Scranton Law Firm, with over 50 years of experience and more than $1,000,000,000 recovered for our clients, is here to help. Reach out today for a consultation that could significantly impact your future for the better.
Don't navigate the aftermath of a fatal vehicle accident alone. Let the Scranton Law Firm stand by your side. With over 50 years of experience as personal injury lawyers, we've helped thousands recover from their losses. If you or a loved one are affected by a fatal accident, don't hesitate to reach out to us. Secure your rights and seek the justice you deserve. Call us now for a free consultation – The Scranton Law Firm, your trusted ally in these challenging times. Call 800-707-0707 now.