Fatal Motorcycle Accident In Carmichael, Ca Kills 1 Injures Leaves 2 Hospitalized
Just hours ago in Carmichael, Ca a suburb of Sacramento county, a accidente fatal occurred, involving two motorcycles and a car. Witnesses on the scene said they saw the two bikes riding fast eastbound on Fair Oaks Blvd when a white Ford Taurus pulled out in front of them causing them to lock up their brakes.
One rider crashed directly in to the driver side door of the Taurus and was already dead when emergency response crews arrived. The other rider layed the bike down and fell off skidding to a stop before hitting the car. The second rider suffered severe injuries and was taken to the hospital along with the female driver of the car.As of 5:30 PM Fair Oaks Blvd. has reopened however the accident is still under investigation.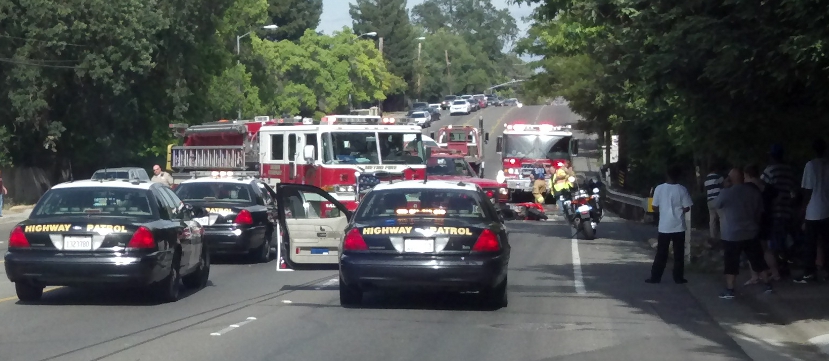 The Scranton Law Firm is at your disposal if you or a loved one has been involved in an accident similar to the one in Carmichael, CA, which is a clear indication of the perilous nature of motorcycle accidents. Prompt legal assistance is crucial in the event that you or someone you know has been injured or worse in a similar incident. Our adept motorcycle accident attorneys possess over a decade of legal expertise and can cater to all your legal needs.
We comprehend the complex and unique challenges that are intrinsic to motorcycle accidents. As such, we are unrelenting in our efforts to fight for your compensation for the diverse array of damages you may have sustained, including but not limited to injuries, lost wages, and other related losses.
It is imperative that you take swift action in this regard. Contact Scranton Law Firm today for a free consultation with a seasoned attorney who will provide you with the requisite guidance and support as you navigate this trying time.
Revisión Gratuita de Caso
Visita Nuestra Oficina Principal
Come in to our main office for a free consultation with one of our experienced personal injury attorneys. 
We have locations throughout the state of California with friendly and helpful staff ready to help you with your personal injury claim.
2450 Stanwell Dr
Concord, CA