Fatal Motorcycle Accident Today In Carmichael, Ca Kills 1 Leaves 2 Hospitalized
Carmichael, Ca, Fatal Motorcycle Accident
Tragedy struck Carmichael, CA, today with a fatal motorcycle accident. As experts in the field of personal injury law, we understand the devastating impact such incidents have on victims and their families, particularly from a legal standpoint.
Hace solo unas horas en Carmichael, California, un suburbio del condado de Sacramento, un accidente fatal occurred, involving two motorcycles and a car. Witnesses on the scene said they saw the two bikes riding fast eastbound on Fair Oaks Blvd when a white Ford Taurus pulled out in front of them causing them to lock up their brakes.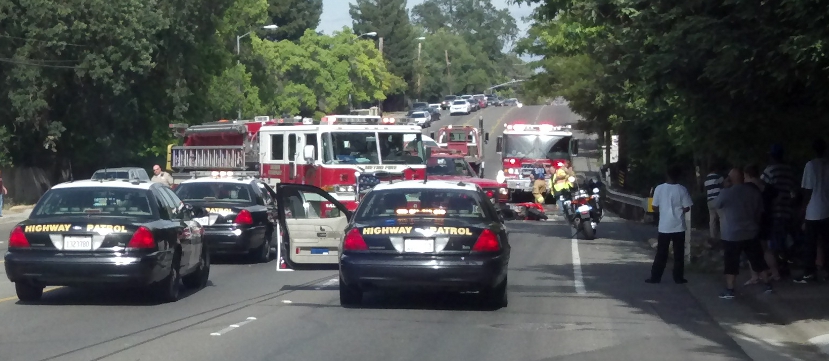 One rider crashed directly in to the driver side door of the Taurus and was already dead when emergency response crews arrived. The other rider layed the bike down and fell off skidding to a stop before hitting the car. The second rider suffered severe injuries and was taken to the hospital along with the female driver of the car.As of 5:30 PM Fair Oaks Blvd. has reopened however the accident is still under investigation.
Motorcycle accidents, such as the deadly motorcycle accident that occurred today in Carmichael, are unfortunately a stark reality on our roads. According to the National Highway Traffic Safety Administration, motorcycle riders are 28 times more likely to die in an accident than those in passenger cars. These statistics underscore the perilous nature of motorcycle riding and the critical importance of seeking legal assistance promptly when such incidents occur.
From the wreckage of a motorcycle wreck, a myriad of complex legal issues arise. These range from establishing fault, dealing with insurance companies, to securing compensation for the broad array of damages that victims and their families may incur. These damages include medical expenses, lost wages, pain, suffering, and, in the most tragic cases, wrongful death.
Navigating these legal waters alone can be overwhelming, especially amidst the emotional trauma of a recent motorcycle accident. That's where we come in. At Scranton Law Firm, we bring not just our legal acumen, but also a deep sense of empathy and understanding to support you in these trying times.
We understand that every motorcycle accident, whether in California or elsewhere, has unique aspects. These could be related to the specifics of the accident, the insurance involved, the local laws, or the nature and extent of injuries. For instance, California follows a "pure comparative negligence" rule, which means you can still recover damages in a motorcycle accident, even if you're found partially at fault. Our team will closely analyze these nuances to chart the best course of action tailored to your circumstances.
What sets us apart is our track record. Over the past five decades, we have helped our clients recover more than $500,000,000. This achievement is a testament to our firm's commitment to seeking justice for those impacted by accidents like the one that struck Carmichael today.
In the Aftermath of a Motorcycle Accident: What Should You Do?
If you or a loved one has been involved in a motorcycle accident today or recently, here's what you should do:
Seek medical attention immediately: Your health is paramount.
Report the accident to the police: This ensures that there is an official record of the incident.
Document everything: Take photos, keep a record of your medical treatment, and document your lost wages.
Speak to an experienced motorcycle accident attorney: Understanding your legal rights and options as soon as possible is essential.
Motorcycle accidents, particularly fatal ones, are heart-wrenching. As empathetic legal professionals, we're here to help you navigate the complexities that follow these tragic events.
That's why we urge you, in the wake of this devastating accident in Carmichael or any similar incident, to reach out to us at the Scranton Law Firm. We don't just fight for your rights; we stand by you in your fight. We won't rest until we've done everything possible to help you find justice and recover what you're entitled to.
Remember, you're not alone on this journey. Let our experience be your guiding light. Contact us today for a free consultation.
Revisión Gratuita de Caso
Visita Nuestra Oficina Principal
Visite nuestra oficina principal para una consulta gratuita con uno de nuestros abogados con experiencia en lesiones personales. 
Tenemos ubicaciones en todo el estado de California con personal amable y servicial listo para ayudarlo con su reclamo por lesiones personales.
2450 Stanwell Dr
Concordia, CA