I-580 In Livermore Site Of Fatal Multi-Car Accident
Fatal Multi Car Accident, Livermore, Ca
In a devastating incident early Thursday morning, a chain reaction crash on eastbound Interstate 580 through Livermore led to the loss of a precious life and caused significant traffic disruptions. 
The California Highway Patrol (CHP) reported that the crash occurred around 3:30 a.m. on I-580 near First Street. It involved multiple vehicles, including a speeding Ford Mustang, a pickup truck, and two other vehicles. The Mustang rear-ended the pickup truck, collided with the median barrier, and subsequently struck another vehicle, leading to a chain reaction collision. Tragically, the driver of the Mustang lost their life at the scene, and another individual sustained moderate injuries and was transported to a hospital.
Investigating the cause and establishing liability is crucial in accidents of this nature. In this case, the high rate of speed exhibited by the Mustang raises questions of negligence on the part of the driver. Liability may be attributed to the driver if their actions breached the duty of care owed to other road users. However, a comprehensive investigation is necessary to determine the full extent of liability and potential contributing factors.
In multi-vehicle accidents, assessing the comparative negligence of each party involved is essential. Factors such as speed, following distance, vehicle maintenance, and driver attentiveness may impact the allocation of fault. Consultation with an experienced personal injury attorney can help navigate these complex legal issues and ensure a fair evaluation of the accident.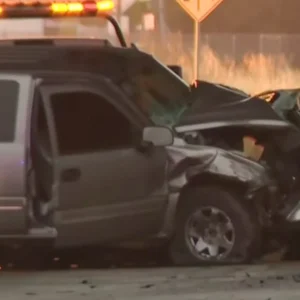 Accident victims should promptly notify their insurance companies and initiate the claims process. Depending on the circumstances, multiple insurance policies may come into play, such as those covering the at-fault driver, the victims, and uninsured/underinsured motorist coverage. An attorney can assist in negotiating with insurance companies to ensure fair compensation for medical expenses, property damage, and other losses.
During this challenging time, seeking support from a knowledgeable legal team is vital to protect your rights and pursue appropriate compensation. The Scranton Law Firm, with over 50 years of experience in handling various accident cases, has recovered more than $500,000,000 for injured clients. Their compassionate attorneys understand the emotional and financial toll accidents take and are committed to providing reliable legal representation.
The chain reaction crash on I-580 through Livermore has brought immense tragedy and disruption to the lives of those affected. Understanding the legal aspects surrounding fatal accidents is essential to protect your rights and pursue the compensation you deserve. The Scranton Law Firm stands ready to support accident victims, providing compassionate legal guidance based on their extensive experience. Remember, you do not have to face the aftermath of an accident alone. Reach out to trusted professionals who will fight for your rights and help you navigate the legal complexities.
If you or someone you know has been involved in an accident or requires legal assistance, don't hesitate to reach out to the Scranton Law Firm. Let us guide you through the legal process and work diligently to secure the compensation you deserve. Your well-being and peace
Revisión Gratuita de Caso
Visita Nuestra Oficina Principal