Construction Site Accident Stats Helpful Info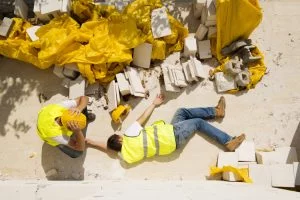 Construction jobs are both physically demanding and can be extremely dangerous. Workers must deal with everything from terrain and weather challenges to chemical dangers, and equipment failures. Scaffolding, ladders, heavy machinery, power tools, and electrical connections are all accidents just waiting to happen.
Injuries and Deaths of Construction Workers
The Bureau of Labor Statistics judges the severity of an injury by the number of days an injured worker was unable to work. In 2011, only miners and transportation industry workers spent more time than construction workers injured and off-the-job. Injured construction workers spent on average 14 days unable to work.The construction industry ranks first in workers' deaths. Although the Bureau of Labor Statistics reports that the number of fatalities has declined by 42% since 2006, many experts believe that bad economic conditions caused the drop. There were not as many construction projects as in prior years. Even so, 774 construction workers lost their lives in 2010.
Unreported Deaths of Construction Workers
It's probable that more than 774 construction workers were killed in work accidents. The Center for Construction Research and Training reported that this number did not include federal or self-employed workers who make up one-quarter of the U.S. construction workforce. Also, the reported deaths may not have included data from small firms with 10 or less employees or Hispanic workers.
The Effect of Safety Regulations on Injuries and Fatalities
The Occupational Safety and Health Act of 1970 saved lives by requiring the construction industry to comply with federal safety provisions. Most states followed this example by passing their own laws concerning workers' health and safety. However, rushing to finish a job on time can cause these precautions to be ignored, resulting in serious injury or death to a worker or even to a member of the general public.
Finding the Causes of Construction Accidents
The exact cause of a construction site accident can be difficult to determine. Also, there are usually people from different organizations working on construction sites, such as the site owner, engineers, architects and various contractors. There are a number of ways for even safety-conscious workers to suffer serious injuries on construction sites including:
-Failure to provide proper training for employees.
-Failure to maintain work site cleanliness.
-Improper construction of guard rails scaffolding.
-Exposed electrical wiring.
-Failure to warn workers of  hazards.
-Improper or careless use of equipment.
Construction accident litigation can be quite complicated because there is usually several different parties who are partially liable for a particular accident. If you have been injured in or you  have lost a loved one due to a construction accident contact the experienced accident lawyers at the Scranton Law Firm we have represented many injured construction workers  and have over 40 years experience representing California Accident Victims.
Call Now To Schedule A Free Case Evaluation With An Accident Lawyer 800 400 8742