SUV Crashes In To Chiropractors Office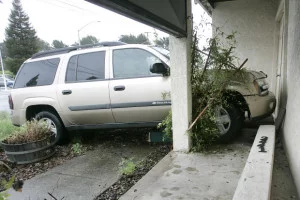 This morning at approximately 9:00 am the office of Dr Timothy Yates got an unexpected drop in , when a Gold Chevrolet Trailblazer crashed into the Napa Chiropractors office.
According to Napa Police Officers the driver of the Chevy SUV lost control of the vehicle while driving on West Imola Avenue at Freeway Drive and swerving and crashing into Dr. Yates Office.
Dr Yates was in his office when he heard the boom and came out to see the SUV had caused serious damage to an interior wall knocking several things off shelves and on to the floor.
It is unknown at this moment as to why the driver lost control but despite structural damage to the office there was no serious injuries that required hospitalization.
The Napa City Building Dept. is expected to come out and do a thorough inspection of damage.