Are "Bouncy Houses" Safe For Your Child's Party?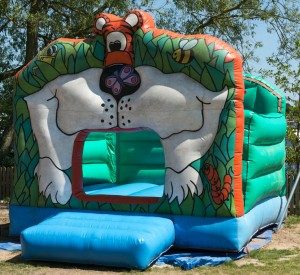 An unfortunate incident took place in Littleton, Colorado on Saturday, May 31, where strong winds lifted a bouncy house and blew it across a field with unstoppable force. What's frightening is that two children were using the bouncy house whenever it began moving.
A young girl was in the process of going down the slide while the bouncy house rolled. It was reported that she flew "out about 8 feet in the air" as the large mass began to roll on. The bouncy house covered several hundred feet across a field,  a young boy was inside of the bouncy house while rolled. The bouncy house finally came to rest in an adjacent lacrosse field.Both children suffered minor injuries, but those in attendance of the disastrous event claimed that it wouldn't have taken much more for someone to have seriously gotten hurt or died.Unfortunately, bouncy house accidents are quite common, and this incident is definitely not the first of its kind to take place. A few months prior to this incident, a similar event occurred in New York where a bouncy house was blown nearly 50 feet in the air while two children occupied it. Both children sustained serious injuries from the accident.
In 2010, emergency rooms across the nation treated 31 children a day for injuries related to bouncy houses, approximately one child every 45 minutes. Of the injured children nearly 20% of the received injuries to the head, neck, or spine.
The company that was responsible for the bouncy house claimed that it was assembled and set up correctly and all of the proper precautions had been taken prior to its usage. At this time, the CPSC (Consumer Product Safety Commission) is looking into the incident.
If your child has been seriously injured in an accident involving a bouncy house call the Scranton Law Firm. We can help answer all your questions you have free of charge.